Cuban ambassador to Grenada during the Grenada Revolution.
Subscribe to Our Mailing List
To receive ongoing updates and notifications on new episodes, please sign up to our Newsletter and we'll make sure to keep you in the loop!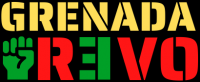 GrenadaRevo.com is an online resource to answer all your questions about Maurice Bishop and his leadership of the Grenada Revolution.
© All rights reserved. Created by Caribbeanist.com